About
Let me tell you something, rock bottom is a sweet fucking dream,
A myth made up by a liar who's despair is a void you can slip into forever.
I've been as low as you can go
And I guess here at the bottom the only place you can go is up,
But everytime I start to get ahead, everytime I start to get somewhere
It's seems like someone or something knocks me the fuck back down.
One step forward, two steps back.
I read somewhere that "without hope, man is but an animal"
...I think I've lost hope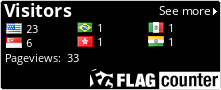 Newer posts are loading.

You are at the newest post.
Click here
to check if anything new just came in.